Tickets
Thank you for your interest in our 26th annual Chocolate Affair! Tickets may be purchased for yourself or as a gift for those hard to buy for friends. Simply click the button below to get started.
Please note, during checkout, when you reach the final details of your transaction, you will see the Option of Add a Tip to support Givebutter. The tip is completely optional and you can Opt Out.
To Opt Out, select "Other" from the dropdown arrow next to the percent. The text box with the amount of the tip should then default to $0 (as shown below). You can then enter your credit card, Venmo, or PayPal information. The only fees remaining (outside of the ticket cost) will be the credit card/electronic payment processing fees.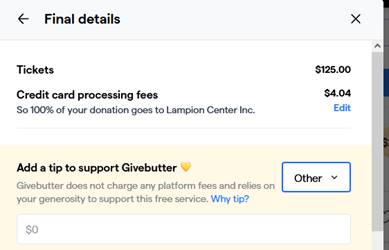 The Givebutter tip option only applies to electronic payment methods, so this will not apply to payments by check.
Please remember, the Givebutter Tip is totally optional and doesn't affect Lampion Center in any way.